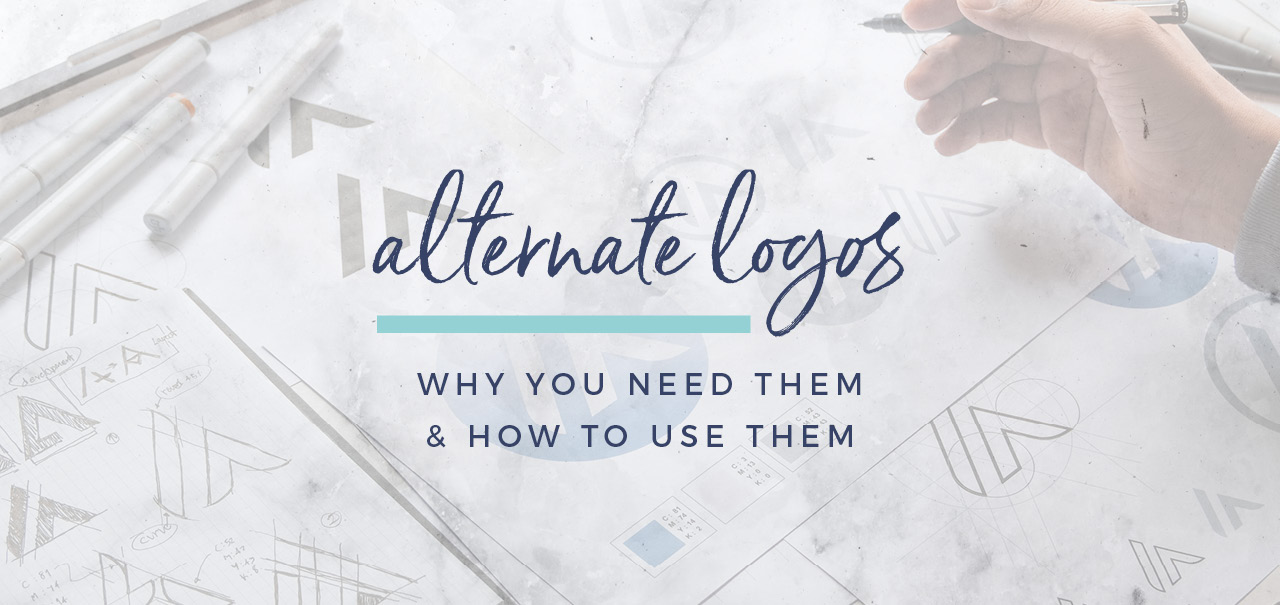 What is an Alternate Logos And How can you Use Them?
Alternate logos can get confusing if you don't know how and when they should be used. Equally, what they should look like can all become a tad overwhelming, but they really are an essential part of any brand identity. A recognisable, professional looking brand needs to have consistency but using alternate logos, allows you to build in flexibility to allow you to create things on brand without feeling restricted.
As fabulous as your main logo may be, it may not translate well across all mediums and in some instances it just might not look right. This is where an alternative logo can really come into its own.
What is an alternate logo?
Your alternate logo is a variation created to compliment your main logo, but usually it is usually simplified and/or uses a different layout to make sure you always have options no matter where you want to use it. – You may even have a couple of alternative logos for different options. We often refer alternate logo's as brand badges as they are great for 'badging' up materials quickly and easily to create professional looking graphics. A good designer will always provide these when working on a brand/logo design for you so definitely ask about them if you're in the process of getting designed up.
Why do I need an alternative logo?
It's great for social media…
Most social media profile images are either square or circular. Sometimes your main logo may lnot work in this orientation or may end up becoming very small and unreadable. Here's a great way an alternate logo can help you out.I would always recommend having a square proportioned logo in your brand assets – that way you've got a ready made social profile you can quickly translate across all platforms.
The designs for Lianne Darley Design Studio are a good example of this. The main logo is very horizontal. When you try to set this as the profile picture on Facebook, for example, you have a lot of unnecessary white space. This is where the alternate logo can be used a sit is shortened and therefore can be easily proportioned into a square space.
Owning your imagery…
There may be times that you want to subtly brand a photograph or image so that it is clearly identifiable as yours. This might be on platforms such as Pinterest. Your alternate logo may also work well as a watermark as it should be simplified.
They can bring your packaging to life…
A simplified alternate logo on packaging is often more aesthetically pleasing than the main logo with full supporting tagline – things can tend to get a bit busy. A good strong alternate logo can really elevate your labels, tissue paper, boxes and also any branded merchandise you may offer.
Small space…no problem
Another great reason to use an alternate logo is that the space is small and the primary logo would just get lost or simply wouldn't fit proportionately. Your main logo in small spaces digitally or printed may be illegible (especially any text elements), so having a go to alternative that works at a smaller size is a great asset to have in your brand toolkit – a good example of this would be your favicon on your website.
Of course, it's important to remember that in most cases your primary logo will be used to help drive brand recognition with consistency, however alternate logos form a very important part of your wider brand identity and you shouldn't be afraid to use them where appropriate. Your brand identity should be a kit of parts that is versatile enough to use across all your touch points. Having an alternate logo can really empower you to further strengthen your brand to your target audience, plus make your life that bit easier next time you're thinking, that logo (main) just doesn't look right – hopefully now you'll have the confidence to give an alternate logo a go.
To get more clarity on your brand and help build a successful brand you love check out our Ultimate Brand Masterclass or for a one to one consultation on your business branding get in touch today.
GRAPHIC DESIGN LINCOLNSHIRE | GRAPHIC DESIGN LINCOLN | SMALL BUSINESS BRANDING LINCOLNSHIRE | LOGO DESIGN LINCOLNSHIRE | SMALL BUSINESS DESIGN LINCOLN